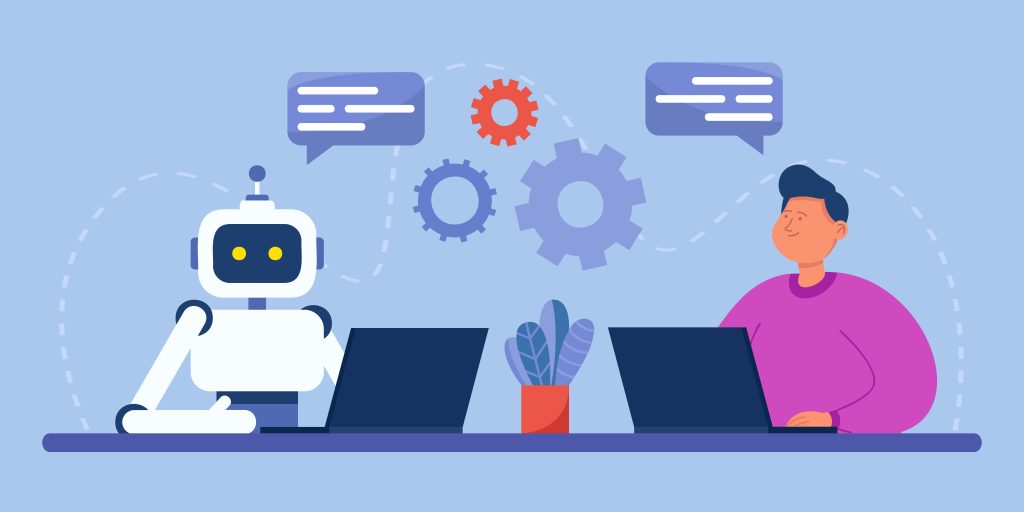 Today, AI is the next step in the development of such business tools as cloud technologies, big data analysis, CRM systems, and bots. Although the first-ever AIs appeared back in the 1950s in the US, they did not have such a significant advancement until modern days. Their development was made possible through extensive automation of business and social processes of the 21st century. Mainly, the Internet has contributed to it, where 330 thousand petabytes of data are created every day (and the number keeps steadily growing). While it becomes increasingly more challenging to navigate through such extensive informational flow in every business and affiliate marketing, in particular, AI, at an advancing pace, can smoothen and simplify that.
Artificial Intelligence is truly a way to revolutionize the futurity of a quantity of areas of activity of humanity, from business to leisure and from creativity to mundane things. In the industry of aff. marketing, AI's extremely useful because it's able to improve engagement with business prospects, being driven by real-time data, promptly analyze huge amounts of data & conclude patterns that a normal person would naturally miss, improve the generation of ideas, leads, and their conversion, and make content optimization, among other tasks. In this article, we're analyzing how AI has reshaped the landscape of affiliate marketing and what AI tools for affiliate marketing on the market are there to help a marketer.
Benefits of Using AI in Affiliate Marketing
AI in affiliate marketing is designed to help automate many routine tasks and improve the outcome, doing it at such a high speed that a human being would never compete with, including:
Creating engaging copies of text, video, and audio to be placed on websites and used during ad campaigns
Optimization of meta tags and automated blogging based on set parameters
Detection and prevention of fraud during ad & affiliate campaigns
Better performance monitoring
Advanced analytics.
One of the brightest advantages of the best AI tools for affiliate marketing is the enhanced accuracy and efficiency in product selection and audience targeting. AI can analyze a lot of data and build client segmentation based on this, providing the most efficient strategies to attract and retain customers via all channels. Thanks to in-depth analysis of client behavior, preferences, and patterns, AI is capable of shaping the best-suiting products and offers for each macro- and micro-segment. Based on these results, an affiliate marketer can build (or ask an AI tool to build) more efficient and engaging material for promo campaigns and for all their affiliates based on a super-detailed client portrait.
The next significant advantage of AI is the automation of processes to increase productivity and optimize results. With the best AI tools for affiliate marketing, it is feasible to:
analyze the efficacy of advertising across all channels, client segments, and campaigns (attribution modeling)
improve the approaches to reaching prospects, generating suggestions of affiliate marketing actions, and making the content of all sorts that will be more engaging and personalized for audiences (up to each individual customer)
forecast consumer behavior based on a data-driven approach (predictive analysis)
optimize patterns and movements in work and be more agile in reaction to market changes
take into account a swarm of additional factors, both structured and not, which without AI-powered affiliate marketing tools would be too long to consider and analyze
combat the obsolescence and demise of 3rd-party cookies through lookalike modeling, predictive analytics, and identity resolution.
Top 10 AI Tools for Affiliate Marketing
Here is the list of 10 great tools for affiliate marketing in 2023:
Tapfiliate
Brandwatch
Jasper AI
Link Whisper
SurferSEO
AdCreative AI
Scaleo
Postaga
Rytr.me
Designs.AI.
1. Tapfiliate
Starting with only $59 a month (after a free 2-week trial period), this highly intuitive and customizable tool for businesses can handle the full cycle of affiliate management, fraud detection, tracking the ROI, multi-level marketing, and commission management. It can automatically onboard new affiliates, who will also be provided with all data and information they need to make an affiliate marketing business with a company.
The online tool can be seamlessly and nearly effortlessly integrated with a variety of SaaS, eCommerce, and online services to scoop data, control workflows, and monitor efficacy. Over 2,000 customers worldwide already use it for their affiliate programs, influencer programs, and referral programs. It offers:
Customization of referral links
Tracking online and offline sales
Multiple languages and payment options
Support of all popular and customizable commission types
Integration with MailChimp
A partner network of over 100,000 publishers
Real-time reporting
While-label option.
2. Brandwatch
This tool is designed for customer segmentation, analysis of competitors and trends, brand monitoring, SMM, content marketing, customer care, crisis management, influencer marketing, and stakeholder management. It has a range of payment plans (depending on the industry, the type of suite, and the role of the user).
It has three different solutions designed for specific roles: SMM, influencer marketing, and customer intelligence. All these platforms, based on the company's 17 years of experience, are designed for powerful analysis (based on historical, real-time, and official data, both structured and not), embed AI for textual and image analysis, feature auto segmentation of clients and data, and smart search. There are also instant analysis, alert, and reporting tools, adjustable in appearance, and several add-ons designed for narrower and more specific requests in the industry of affiliate marketing.
3. Jasper AI
It is one of the long-standing solutions on the market, which is designed for a very specific niche — content creation, which is only a part (yet a very efficient part) of affiliate marketing. It is powerful in the creation of a swarm of types of texts: articles, blogs, social media content, e-mails, ads, promos, descriptive texts, and more. It has an embedded plagiarism, grammar, and spelling check, and can be adjusted to the tone of voice. It is a tool for professional copy creators. Yet, it is pricey given it only performs one function (textual content generation), and among its cons is a lot of repetitive text, which is not freed from plagiarism, and fact-checking is always mandatory. Still, if your affiliate marketing company is focused on writing a lot of content, Jasper AI can be an effective assistant (but not a replacement, at least, not yet) to a writer of copies.
4. Link Whisper
This is a powerful tool to build internal links. Thanks to a smart strategy of interlinking, you can out-compete larger websites in the niche of your target keywords. This is a plugin by WordPress, which creates smart suggestions on interlinking, helping a website organically range higher on Google search. So, in addition to other work of website management and content creation, you can rank higher than your competitors who do not use this, winning the affiliate marketing war. But not just real-time and historical suggestions alone are effective in Link Whisper — the tool can automatically do the entire job, saving hours and hours of manual work. It also effectively works on orphaned, broken, and 404 links. Its pricing starts at $77 a year for one website and goes higher if you choose a pack for 3 or 10 websites (up to $167).
5. Surfer SEO
This tool is designed for boosting organic traffic. This AI-powered tool analyzes competing websites in your niche and defines which keywords and phrases on them can be specifically used on your website to meet up and outrun the competition. After Surfer SEO will have formed a list of keywords, they are to be used in specific pages within a new text copy to outsmart the competitors and rank higher than them. The tool can show, what keywords on your website can be improved, what keywords aren't used enough (or at all), and provides other keyword suggestions that boost the organic traffic to your website once these are effectively put into texts.
You can take the suggestions of this tool and go to other tools that write content automatically to use them in bulk or hire an expert in writing to make texts with more sense and more appealing to readers.
Other features of Surfer SEO include compatibility with WordPress and Google Docs, keyword clustering, page SEO ranking formation, white label SEO reports, Jasper and Surfer compatibility for automated writing, powerful auditing, and support of nearly all languages in the world.
6. AdCreative AI
This is a tool for the automated generation of designs and formats for ads: textual, video, images, and social posts. An affiliate marketer can also use it for A/B testing of ads. The tool provides a free trial period and it is relatively cheap (starting with only $21/mo), giving $500 worth of free Google ad credits to newly subscribed users.
It can generate multiple-format ads in just a few clicks (based on the description of a brand & size of the post). Its creators claim that their tool can allegedly improve the CTR rate by 95% and provide up to 1,400% better conversion rates.
Although it is used currently by over 0.1 million subscribers around the world, who use it to make texts, headlines, creatives, social posts, blogs, and more, it is worth noting that this tool isn't perfect yet, so some of its generative results need to be edited manually or redone for good.
7. Scaleo
This tool is specifically for managing affiliate marketing campaigns in a real-time mode through its platform. The management of campaigns includes establishing, parameterization, tracking, analyzing, optimizing, and changing campaigns via multiple channels. It is a tool for businesses (a B2B solution), where the target clients are networks, media buyers, and affiliate marketing providers.
It is designed for various businesses and industries and can be smoothly integrated with dozens of platforms, such as Shopify, WooCommerce, Google, Tilda, Magento, Affise, Big Commerce, OpenCart, Squarespace, or Wix.
It costs $400-1,200 a month, depending on the set of tasks that a client has, and includes hundreds of functions, which typically a well-established affiliate marketing company needs to have.
8. Postaga
Postaga is a very specialized tool that is designed specifically for the improvement of cold sales outreach. It includes functions of link building and digital PR. It significantly simplifies the search of contacts (emails, phone numbers, social media accounts) through browsing various thematic podcasts, blogs, and websites, where people leave their contact data.
It can create initial and follow-up email texts and designs, analyze the performance of ad campaigns, and generate campaign ideas.
It costs from $84 to $250 a month depending on the number of contacts, emails, and opportunity searches that you need.
9. Rytr.me
This is another tool to write kinds of texts that are used commercially and socially. Its services worldwide are used by over 6.5 million people of various verticals, from company owners to marketers and copywriters. One can use it for generating texts for landing pages, product descriptions, interview questions, blogs, ads, story plots, posts, SEO titles, taglines, headlines, reviews, testimonials, pitches, emails, and others. It supports over 40 templates, 30+ languages, 20+ tones of voice, and even sticks with the formulaic copywriting approaches (such as PAS or AIDA) for brand/product descriptions.
Although a free version is present, it is not flamboyant in the volume of the generated content per month (just 10,000 characters), so it does cost money for unlimited access, consuming up to $290 a year. Although it claims to save a lot of time, it does not completely replace writers of copies yet since it still takes much time to finish texts to their best after they are auto-generated and lift the uniqueness level (which in this tool originally can be anything in between 30% and 100%).
10. Designs.AI
This is a great tool to create various marketable designs of logos, videos, mockups, and banners without any particular skills or knowledge in graphical design. The creators of this tool claim it would only take up to 2 minutes to generate a compelling design from scratch thanks to the usage of AI. It can significantly ease and speed up the work of people whose primary job is creating these on a daily basis. That's especially great for large campaigns with many individual parameters, where sometimes hundreds of designs are necessary.
Besides the creation of the above, this tool is capable of applying your branding to projects across videos, pictures, and logos. It also can pair up attractive color and font combinations and offers to pick from thousands of existing templates or make a completely new one.
Its pricing plan after the expiration of a 30-day trial period is up to $49 a month.
The Impact of AI on the Future of Affiliate Marketing
The future of affiliate marketing with AI is to change very rapidly. Since AI is one of the hottest technologies in the 2020s (especially in 2022 and upcoming years), there is a lot of development potential for affiliate marketing through AI. Given that around 59% of companies of Forbes-500 already use automation of their regular marketing or affiliate marketing efforts, this technology is definitely on the rise. There are trends & feasible predictions regarding the development of Artificial Intelligence in the industry of affiliate marketing in the nearest years:
More automated content generation. By 2026, over 90% of all the content on the Internet will be AI-generated (that does not imply only texts but also ads, videos, sounds, music & images). The most impacted areas in affiliate marketing will be blog posts, social media, websites, landing pages & product reviews.
Voice search optimization. In 2023, 27% of all mobile users use voice search (in the US, this number is 37%). The number of voice search instances per year may double in 3 to 4 years. And, thanks to AI, the accuracy of effective searches or resolved issues of users will even rise from today's already high number of 93.7%.
Influencer marketing optimization. 77% of sellers that use influencer marketing find them useful (the number's growing annually). This industry is already worth 21 billion and it grows globally on average 70% each year (considering the numbers of 7 latest years). With more profits, connections & data created by influencer marketing each year, the impact of AI on affiliate marketing development in this segment will be huge.
Cross-channel marketing optimization. This has always been a hard task because it involved a lot of data coming from many channels, where mapping was not easy. Thanks to AI, the efforts needed to automate the workflow and make analysis of efficacy significantly reduce.
Dynamic pricing. After each client is micro-segmented and linked to various attributes, product offers to such a client can become as personal as never before. The price can so much suit this particular client because it will depend on many personal factors, including the level of income and its ratio to expenses and savings, the likelihood of making a purchase for the given price, the best time of the day to show an ad offer based on the data of previous purchases, etc. This may even be called 'hyper personalization'.
Chatbots for consumer support. This is already true that ChatGPT is actively integrated into customer support workflows, even on the governmental level (the example is a governmental service Diia in Ukraine, which is currently working on adding a ChatGPT-based assistant to help over 6 million of its users). This is just alone example but there are already hundreds of instances of active usage of NLP (natural language processing) across our planet.
Performance prediction. Finally, thanks to AI automation in affiliate marketing, a marketer can more accurately predict their income across channels, campaigns, clients & in other planes.
There are already many examples of successful usage of AI in the field of affiliate marketing by various companies in the segments of predictive analysis, optimization, personalization, fraud detection & attribution modeling. We're considering them below.
Results and Benefits of AI in Affiliate Marketing
Many companies in the industry have already appreciated the benefits of AI in affiliate marketing. Below, we've gathered for our interested readers some information about the companies, their successful case studies & stories of companies leveraging AI tools.
CJ Affiliate (cj.com) uses AI to provide better-personalized offers, which resulted in a conversion rate increase of 40% (in the travel industry).
The Impact Company (impact.com/affiliate-marketing/) increased the conversion rate by 25%-56% (depending on the industry) and identified the high-value clients more precisely. Also, it has cut the cost of acquisition by 25% and improved the revenue per average user by 20%.
The Pepperjam Company (pepperjam.com) through analyzing consumer preferences and behavior, by streamlining the effectiveness of its ad campaigns, was able to gain 39% conversion efficacy in the wellness and health industries and up to 69% in some other industries. It was also able to improve the return on investment for marketing dollars by 16 times.
Rakuten Advertising (rakutenadvertising.com) uses AI for predictive analysis, more accurate targeting in campaigns & forming personalized ad solutions. As a result, the click-through rate has increased by up to ninety-five percent & the conversion rate grew from 50% to 200% (depending on the industry).
Another company, Awin (awin.com) reached far better results in the conversion rate (gaining from 20% to over 150% in this indicator) and effectively reduced the cost of client acquisition by 69% (in the beauty industry). It also was able to improve the revenue generated by an average customer by 60%.
Many companies also actively go for enhancing affiliate marketing with AI in the area of fraud detection & prevention. Thus, Anura.IO (anura.io), Affise (affise.com) & FraudScore (fraudscore.ai) use AI in connection to various aspects of fraudulent behavior:
find & prevent it
identify advertisers & publishers with high risk
learn historical data to formulate patterns of such activity & segment it
prevent implausible traffic sources
identify & successfully exclude traffic farms, botnets & click farms
identify and evade spam.
Also, companies striving for revolutionizing affiliate marketing with AI, use machine learning to better identify customer behavioral patterns, more comprehensively find and utilize touchpoints for customers in multi-channel campaigns, segment clientele & better personalize ad offers for every segment (up to individual customers) & analyze customer's feedback based on NLP's automated analysis and attribution. The list of companies that do such includes Cake (getcake.com), Impact (impact.com), IBM Watson (ibm.com/watson) & Affise (affise.com). According to gartner.com, the overwhelming majority of all respondents who tried AI in connection to the topic of this article find it useful & capable of giving meaningful results. In the upcoming years, this number will reach nearly 100% after the market is saturated with powerful tools that will be designed for all niches & businesses.
Conclusion
The AI trends in affiliate marketing show that Artificial Intelligence is used in multi-faceted tools in the industry, more every year. Its penetration into working processes will only increase over time, as AI can automate routine workflows, effectively segment clients, define their preferences, create copies of content & shape offers that would be exactly suitable (up to every individual client) with an optimal (and even decreasing) cost of running ad campaigns. AI will intertwine with systems that marketers of all levels use today, from content creation to control and global management.
This all is capable of incrementing the revenue for affiliate marketing companies and their clients, better consuming and digesting their share of an ever-growing pie called 'affiliate marketing' that as of 2023 is estimated to have a volume of 17 billion USD.